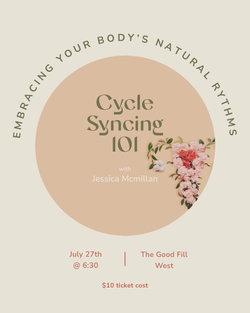 Cycle Syncing 101 | Jessica McMillan | July 27th 6:30 pm
During this workshop, our focus will shift from the topic of Zero Waste to the fascinating topic of menstrual cycle syncing. Have you ever wondered how to harness the power of your menstrual cycle and align it with your daily life? Discover the fundamentals of syncing your cycle with nutrition, exercise, self-care rituals, and workflow, allowing you to unlock your full hormonal potential and embrace your body's natural rhythms. Whether you're a beginner or simply curious to learn more, this workshop is for you!
About the Speaker:
Jessica McMillan, a passionate educator, and entrepreneur, supports other businesses in prioritizing a woman's body through effective systems and processes. Drawing from her own journey, she shares the transformative power of cycle-syncing methods, unlocking and protecting creative joy while fostering the integration of work and personal fulfillment.

BYO containers to refill after the workshop for 15% off!