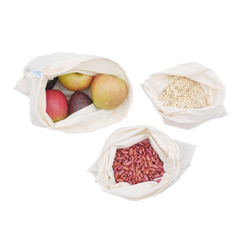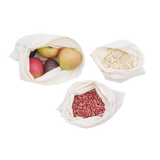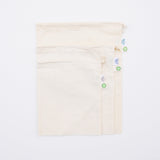 Organic Cotton Produce & Bulk Bags
Why We Love It: No plastic or polyester here! These reusable and machine washable bags are great for all your grocery shopping needs and are designed to replace plastic disposable bags. The bag's weight is printed on tag for deducting at checkout.
They are certified organic and fair trade, as well as the threads they are sewn with.
Small: 8.25x10 inches
Medium: 9.75x11.5 inches
Large: 12x14.75 inches
Care: Will last for years! Machine washable.
Packaging: Package free. 
End of Life: Compostable. 
Materials: Responsibly sourced & GOTS certified cotton! Made fair-trade and responsibly in India.
The Global Organic Textile Standard (GOTS) is the worldwide leading textile processing standard for organic fibers, including ecological and social criteria, backed up by independent certification of the entire textile supply chain.