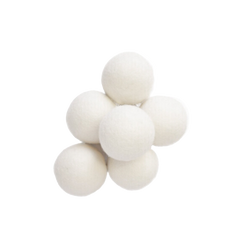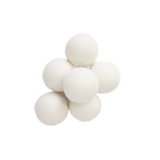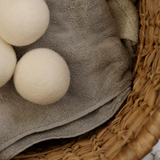 Why We Love Them:
Softens clothes naturally without chemicals.
Add a few drops of your favorite essential oils and naturally scent your laundry.
Helps clothes dry faster. 
Safe for babies and sensitive skin.
Can simply be recharged and reused again and again. 
Use/Care: Use 3-6 dryer balls per load into dryer. You can recharge them by washing in hot water on a gentle cycle and then dry on high heat. This will regenerate the wool and give them a fresh repurpose 
Packaging: None
End of Life: Compostable at home or in a facility.
Materials: 100% wool.