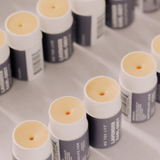 Why We Love It: It's called a lip butter instead of a lip balm because it will last on your lips twice as long! The candelilla base works as a great alternative to typical beeswax, and makes it vegan.
Use: Apply to your lips as needed. 
Care: As with any natural product, don't leave it in an environment where it will be exposed to high heat (i.e. left in a car or put in direct sunlight). Heating and cooling will limit the shelf life of the product which typically should last around 1-2 years. 
Packaging: Biodegradable and zero-waste paperboard tube.
End of Life: We recommend composting in a facility. The tubes have a PLA lining to reduce oil leaking. Composting in a facility will ensure the PLA gets broken down efficiently. Only backyard compost if you can ensure your compost pile reaches 140º.
Ingredients: candelilla wax, cocoa butter*, coconut oil*, sweet almond oil, avocado oil, lavender & bergamot essential oil, stevia leaf*.
* CERTIFIED ORGANIC