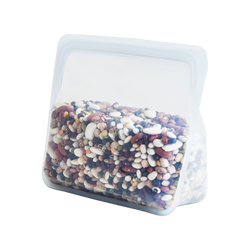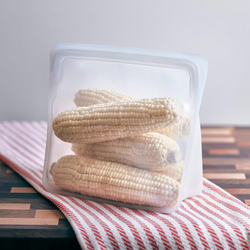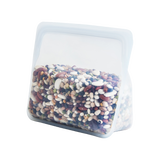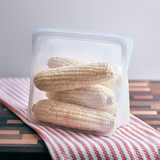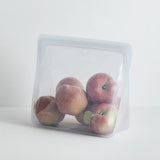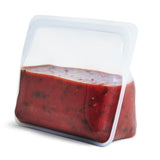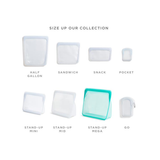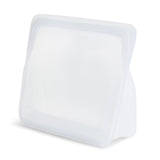 Reusable Silicone Bag - Mega Size
Why We Love It: The most upstanding citizen in the Stasher lineup, making life better everywhere it goes. Perfect for bulk shoppers, coffee connoisseurs, marinade masters, kitchen drawer pack-rats, and Instant Pot enthusiasts. Keep food fresh at home, slosh-proof your soups, or protect your check-in luggage from makeup and shampoo.
Endlessly useful, reusable, and non-toxic — Stasher bags end the tyranny of lids with their patented Pinch-loc™ seal and compact design. 
100% pure platinum silicone.

Non-toxic.

Pinch-loc™ seal.

Endlessly reusable.

Write on them!
Mid Size Dimensions: 7 x 8.5 x 3.5 inches
Volume: 56 fl. ounces, 12 cups dry
Tare weight: 4.5 ounces / .28 pounds 

Mega Size Dimensions: 9.5 x 8.25 x 4.75 in / 24.1 x 21 x 12.1 cm
volume: 104 fl oz / 3077 mL
Tare weight: 5.7 oz / 163 gm
Care: Dishwasher, freezer, and microwave safe.
Packaging: Recyclable box made from 70% post-consumer waste.
HAVE A DAMAGED STASHER? Send to:
Stasher 
ATTN: Repurpose Program 
1310 63rd Street 
Emeryville, CA 94608
Materials: Stasher products are made of 100% pure platinum grade silicone. Silicone is made from sand (silica) and carbon, natural resources that give Stasher bags the purity of glass and functionality of plastic.