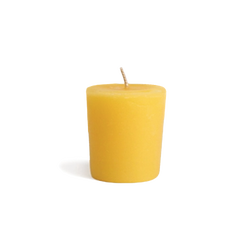 Natural Beeswax Votive Candles (Local Pick-up Only)
Our Natural Beeswax Votives Candles are for Local Pickup  in Nashville only. 
Why We Love It: All-natural, and free of paraffin and other toxins, these candles burn clean and soot free, with a steady, healthy sized flame that radiates a spectrum of light that matches that of the sun. These votives are a standard size 1.5"x 2". Enjoy the natural, sweet, honey fragrance infused straight from the hive into the wax!
Use: For best results, burn votives in a container that fits close around the diameter of the candle. Never burn on or near anything that can catch fire. Never leave burning candle unattended. 
Ingredients: 100% pure, naturally filtered, unscented beeswax. The wicks are made from 100% cotton and contain no lead or metal. This 2 ounce candle will burn for over 15 hours. 
Packaging: Package free. 
End of Life: Burn candle until end. Whatever is left of the wick should be disposed of in trash (we wish it wasn't so).