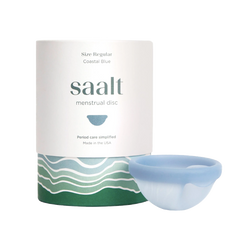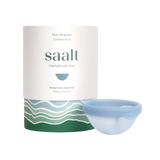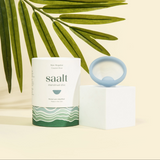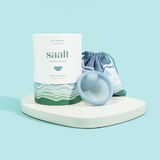 Why We Love It: The Salt Disc is designed to be the most comfortable and easiest reusable menstrual disc to insert and remove. Because the Saalt Disc doesn't rely on suction to seal and position behind your pubic bone, it's ideal for those with bladder sensitivities, a weak pelvic floor or a low or high cervix. Includes a custom finger notch that makes removal a breeze. The disc can be worn for up to 12 hours at a time and holds the capacity of 6 tampons! Ideal for those with regular to heavy flow. As a bonus, the Saalt Disc provides leak-free protection for adult activities (it does not function as a contraceptive or protect against STI's).
Use/Care: Before use, sanitize your new disc by boiling it in water for 4-5 minutes. Use a whisk or tongs to ensure the disc does not rest on the bottom of the pot. 
To insert: With clean hands, pinch the disc by pressing the rim together in the center to form an "8" shape with the removal notch at one end. Slide the disc in at a horizontal angle (pointed towards your tailbone), until it is completely inside your vaginal canal. Then, push upwards on the front of the rim, resting the front of the disc above the pubic bone. As you tuck the front end of the disc behind your pubic bone, the rim will pop open. The disc should sit below your cervix in order to catch your flow.
To remove: After no more than 12 hours, or when you feel it is time to empty, use clean hands to insert your finger behind your pubic bone to feel for the rim of the disc. Find the removal notch and hook one finger inside, gently pulling down on the grip lines to untuck the Saalt Disc. Refrain from only gripping and pulling the thin basin of the disc to remove, as this can damage the silicone. Gently pull the disc out at a horizontal angle. Keep it upright to avoid spilling and empty into toilet. If you're in public, it's completely fine to re-insert your cup without rinsing it; make sure to rinse out when you return home. 
After Each Use: Rinse and re-insert, or if in public, re-insert and rinse when you return home. Soap isn't necessary, but if you do use soap, make sure it's gentle and fragrance-free so as to not irritate your sensitive parts.

Between Cycles: Wash with soap and water and store it in the provided pouch until next month! If you'd like to fully sterilize your Saalt cup, you can do so by boiling it for 5 minutes and removing it with tongs. Let your cup cool off and dry, then store it in your storage pouch.
Packaging: Reusable storage pouch, and 100% recyclable paper display tube.
End of Life: Your Saalt disc can be safely used for up to 10 years! Some users prefer to purchase a new disc every few years, however, this is not necessary. 100% recyclable silicone.