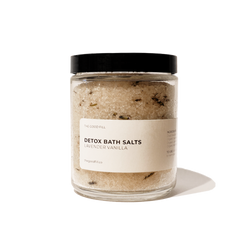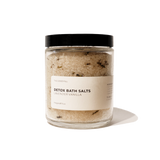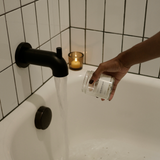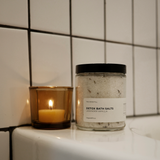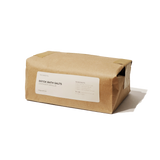 Detox Bath Salt & Refills
In Store Price: $1.25 Per Oz
Why We Love It: Get all the benefits of an Epsom Salt bath with the added benefits of Pacific Sea Salt. Epsom Salt helps calm achy or sore muscles while Dead Sea Salt packed with skin-loving minerals, such as calcium and magnesium, soothes irritated skin. The added Lavender and Vanilla scents create a serene environment for optimum relaxation. 
Use: Add 1/4 to 1/2 cup to a warm bath. 
Packaging: Refills will be sent in a compostable/ recyclable brown paper bag. *Please note that this bag is meant solely for transport purposes and is not meant to hold product for an extended period of time. If you purchase your product in a glass jar, glass jars come wrapped in 100% Recycled Newsprint Paper made entirely from post-consumer & post-industrial content. Paper can be recycled or naturally biodegrade.
Ingredients: Pacific Sea Salt, Epsom Salt, Dendritic Salt, Organic Lavender Buds, Organic Lavender Essential Oil, Organic Vanilla Bean Extract.
End of Life: Once you've used up all the Bath Salt, either compost or recycle the paper bag and reuse the glass jar.