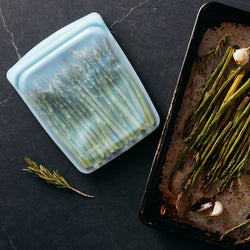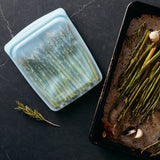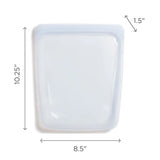 Reusable Large Food Storage Bag
Why We Love It: This bad boy is the perfect reusable sous vide bag and perfect for storing leftovers in the fridge or freezer. Alternatively, the Half Gallon is a great way to take home leftovers without the disposable, and shall we mention non-recyclable, to-go containers. 
Endlessly useful, reusable, and non-toxic — Stasher bags end the tyranny of lids with their patented Pinch-loc™ seal and compact design. ]

Dimensions: 8.5 x 10.25 x 1.5 in / 21.6 x 26 x 3.8 cm
Volume: 64 fl oz. / 1893 mL
Tare weight: 4.2 oz. / 119 gm

Care: Dishwasher and microwave safe. Heat safe up to 425 degrees.
Packaging: Recyclable box made from 70% post-consumer waste.
Damaged Stasher? Bring in-store to recycle or send to:
Stasher
ATTN: Repurpose Program
1310 63rd Street
Emeryville, CA 94608
Materials: Stasher products are made of 100% pure platinum grade silicone. Silicone is made from sand (silica) and carbon, natural resources that give Stasher bags the purity of glass and functionality of plastic.