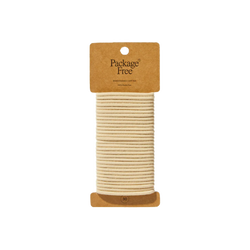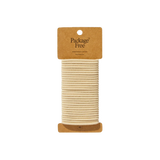 Biodegradable Hair Ties - Blonde
Why We Love It: Did you know that conventional hair ties are made with rubber and polyester — a woven synthetic material derived from petroleum? Talk about a hairy situation. These hair ties from Package Free are made with natural rubber and cotton for an all day hold, naturally.
There are 30 hair ties in each plastic-free pack.
Care: Use in place of conventional hair ties. Style as desired. Keep dry for the longest life.
Materials: 100% rubber, 100% cotton.
Packaging: Recycled cardboard.
End of Life: Cardboard sleeve is recyclable and compostable, industrially or at home. Compost hair ties in industrial compost.