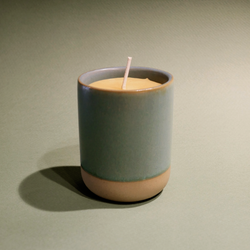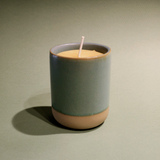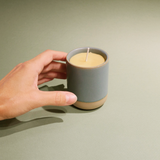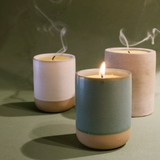 Beeswax Stoneware Candle - Renew Scent
 Scent: Patchouli E.O., Geranium E.O., Cedar E.O., Orange E.O. 
Why We Love It: All-natural, and free of paraffin and other toxins, these candles burn clean and soot free, with a steady flame. Burns 25 hours. 
Use: For best results burn for at least 2 hours per lighting and keep on a heat resistant surface. Keep wick trimmed to 1/4 inches Never burn on or near anything that can catch fire. Never leave burning candle unattended and allow at least 10 minutes to cool before touching. 
Ingredients: 100% beeswax and pure essential oils.
Packaging: Package free. 
End of Life: Once burned down, whatever is left of the wick should be disposed of in trash (we wish it wasn't so).