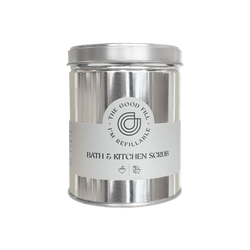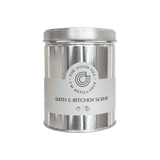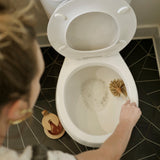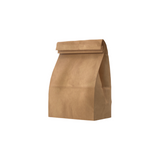 Bath and Kitchen Scrub + Refills
Refill in Store: $.64 per ounce
Why We Love It: Looking for a powerful cleaning solution for your sink, toilet, tub, tile, grout, and oven? Look no further than our water-activated, foaming Bath & Kitchen Scrub powder! This concentrated powder effortlessly removes gunk and leaves surfaces clean, shiny, and deodorized. Best of all, it's made with biodegradable and plant-based ingredients, so you don't have to worry about harmful chemical residues or fumes.
Use: Sprinkle a thin layer of cleaner on a damp cloth or sponge and apply in a circular motion to surface to be cleaned. Rinse with water. When extra cleaning strength is desired, allow the product to sit on the surface for 10 minutes.
Store in a cool, dry place.
Packaging: 100% recycled tin with slip cover lid. The powder is shipped inside the tin in a home compostable and recyclable glassine paper bag to prevent spills in transit. Refills are sent in a compostable and recyclable brown paper bag. *Please note that the brown paper bag is meant solely for transport purposes and is not meant to hold the product for an extended period of time.
End of Life: Refill in-store.
Ingredients: Sodium Bicarbonate, Sodium Carbonate, Citric Acid, Calcium Carbonate, Sodium Cocoyl Isethionate.