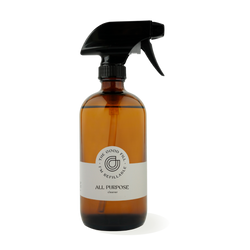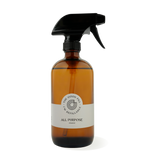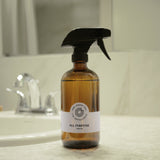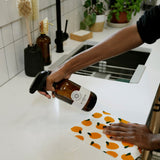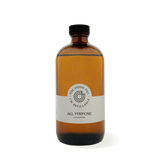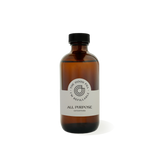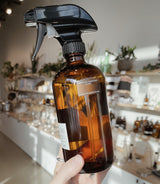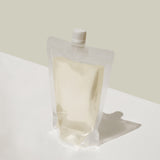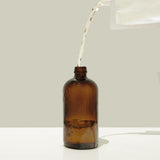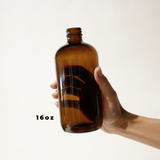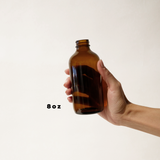 All Purpose Cleaning Spray & Concentrate Refills
In-Store Price: 95¢ per oz Concentrate, 25¢ per oz Ready-to-Use Solution.
Why We Love It: Our All Purpose Cleaner is effective on counters, appliances, stainless steel, sealed granite, finished wood, chrome, cooktop hoods, sinks, showers, and toilets and more. It is made with 100% all-natural ingredients that work hard to remove grease, germs, and grime. Use in combination with our Swedish Dish Cloths for an effortless zero-waste cleanup! Our 10x concentrate is less than $1.50 per refill. 
To Use Concentrate: Mix 1.5 tbsp of concentrate per 8oz of water or 3 tbsp per 16oz of water. The concentrate-to-water ratio is 1:9. : BPA-free, returnable refill pouch or refillable glass bottle.
End of Life: Send pouch back in the mail for us to clean, and refill for the next customer. Please rinse refill pouches out with water before sending them back.
Ingredients: Water, Ethanol, Caprylyl/Capryl Glucoside, Tea Tree Essential Oil
Lavender Essential Oil
Zero Waste Online Refill and Return: Refills come in a BPA-free pouch made with 93% less plastic than a plastic bottle. All refill pouches should be returned to us in the envelope you receive with your order which includes pre-paid postage. Simply empty the pouch contents into your own container, give it a quick rinse with water, and then place the empty pouch back in the mail for us to clean and refill for the next customer.