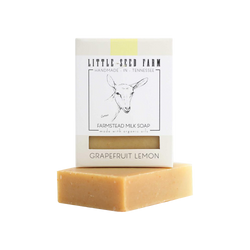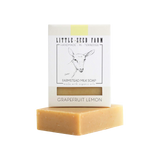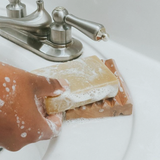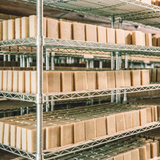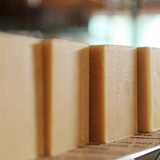 Grapefruit Lemon Face & Body Bar
Why We Love It: A bright citrus blend featuring refreshing notes of mood lifting grapefruit and lemon. Antioxidant rich organic essential oils protect skin while anti-inflammatory turmeric helps brighten skin, fade scars and sun spots, and balance oil production.
Use: To reap the maximum moisturizing benefits from your soap, after lathering only rinse until the suds have disappeared. This leaves a silky layer of milky goodness to protect and heal your skin.
Little Seed doesn't use palm oil (a hardening oil) in their soap for ethical and environmental reasons. As a result, the bars will soften if left in a pool of water. To help keep your bar at it's best, please keep it in a draining soap dish away from direct streams of water.
Packaging: Package free.
End of Life: Why we love bars so much, no need to do anything! These will eventually just dissolve.
Ingredients: Saponified Virgin Organic Olive Oil* and Organic Coconut Oil*, Grassfed Goat's Milk**, Organic Essential Oils of Grapefruit*, Orange*, Lemongrass, and Litsea Cubeba*, Organic Turmeric Powder*.

* CERTIFIED ORGANIC INGREDIENT
** FROM OUR HUMANELY & SUSTAINABLY MANAGED HERD OF GRASSFED GOATS
Made Locally in Lebanon, TN