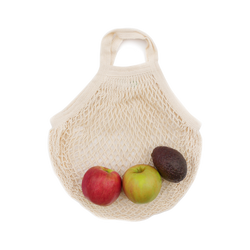 Organic Cotton String Bag (Short Handle)
Why We Love It: This seemingly small bag, stretches and expands to accommodate almost anything you put in it, from fruits and veggies to bread, flowers, and wine. Perfect for going to your grocer, farmer's market, or simply having it on hand as a just-in-case bag or "Avoska", as they say in Russian.
Beyond local shopping, this bag is perfectly suited for the beach and travel so that no matter where you are in the world, you have your handy reusable tote.
Handle Size: 0.75"W x 4" Drop Length.
Capacity: 50 lbs.
Great for shopping or the beach.
Easy to compact and carry, fits in a pocket.
Handy for organizing.
Lightweight and expandable.
Largest and strongest available on the market today.
Amazingly expands to hold as much as a standard paper grocery bag.
Care: Machine wash with cold water, hang to dry.
Packaging: Package free.
End of Life: Recyclable as a textile.
Materials: Organic and responsibly sourced cotton.
GOTS certified. The Global Organic Textile Standard (GOTS) is the worldwide leading textile processing standard for organic fibers, including ecological and social criteria, backed up by independent certification of the entire textile supply chain.