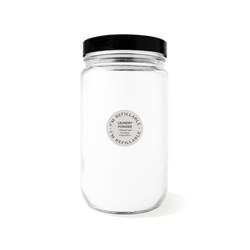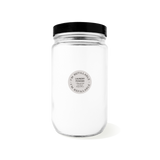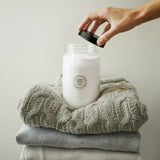 Laundry Detergent Powder & Refills
In Store Price: 40¢ Per Oz
Why We Love It: Liquid detergents are made up from at least 50 percent water. Nellie's does not think selling you water and moving water around the planet is a very good idea. The fact is, more cleaning power can be packed into a smaller space using powder and you only need 1 tbsp per load.
Vegan.
Cruelty-free.
Non-toxic.

Safe from: SLS, SLES, gluten, phosphates, fragrance, and chlorine.
Use: Use one tablespoon of Nellie's Laundry Soda for each regular sized load. Wash according to instructions on garments. Always test on garments that may bleed or fade. Nellie's Laundry Soda is safe for front loading HE and standard washing machines.
Packaging: Refills come in a compostable/recyclable paper bag. *Please note that this bag is meant solely for transport purposes and is not meant to hold product for an extended period of time. 
Pre-filled jar is glass with a metal top
Ingredients: sodium carbonate, linear alcohol ethoxylate, sodium chloride, sodium metasilicate.