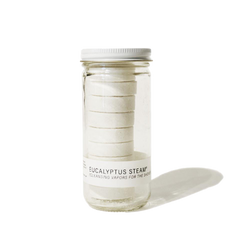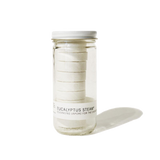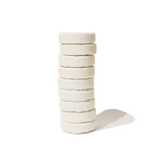 Eucalyptus Steam Jar & Refills
Why We Love It: These cubes are amazing for days when you need to open up your sinuses or any day you want to add soothing aromatic vapors to your shower. 

Use: Place a single cube in the corner of your shower and begin showering, the water will react with the cube and start to release the essential oil vapors! By placing out of the direct stream of water and just splashing the cube, you'll ensure the effects last the length of your shower.
Care: Store in a cool dry place in airtight jar. 
Packaging: Glass jar with metal screw top.
End of Life: Either recycle or reuse the container with our cube refills. Product is biodegradable.
Ingredients: Natural clay, salts, eucalyptus and mint essential oil.
Warnings: Because of the strength of the essential oils in these shower steamers, this product is for shower use only, do not use in the bath. Keep out of eyes. If in eyes, flush with clean water for 10 minutes or longer.