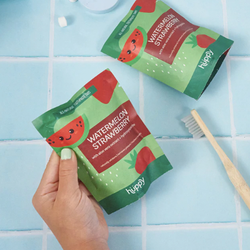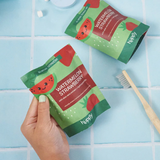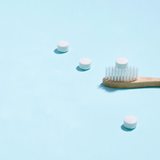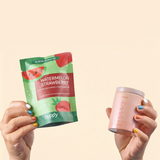 Kids Toothpaste Tablets | Strawberry Watermelon
Why We Love It: This compostable pack of 62 tooth tablets gently polishes your teeth, naturally whitens with gentle abrasives, and strengthens & remineralizes enamel with a natural and non-toxic fluoride alternative N-HA (Nano-Hydroxyapatite), leaving them clean and bright!  One pack is one month's worth of a fresh mouth!
Use: Chew one tablet until it is soft and smooth, wet your toothbrush, then brush as you would with any conventional toothpaste. 
Packaging: Certified compostable paper pack. Compostable at home in under 6 mo.
Ingredients:
Kids:  Xylitol (From Birch), Natural Watermelon & Strawberry Flavors, Sodium Bicarbonate (Baking Soda), Calcium Carbonate, Sodium Cocoyl Isethionate (From Coconut), Caesalpinia Spinosa Gum, Hydroxyapatite (Nano), Cellulose Gum, Cocamidopropyl Betaine (From Coconut), Zinc Citrate, Magnesium Stearate (Vegan)†, Hydrated Silica, Organic Mentha Piperita (Peppermint) Oil, Organic Mentha Arvensis (Menthol) Crystals, Organic Melaleuca Alternifolia (Tea Tree) Oil, Organic Cocos Nucifera (Coconut) Oil, Ammonium Glycyrrhizate (From Licorice Root), and Organic Aloe Barbadensis Leaf Juice.
† Sustainably Sourced (RSPO)
This product is FREE OF: Sulfates, Parabens, Formaldehyde, Triclosan, Propylene Glycol, Diethanolamine, Artificial Dyes, Darrageenan, and Sodium Saccharin.