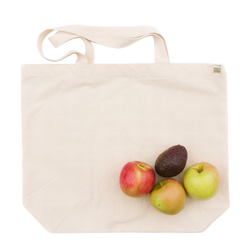 Why We Love It: Well it's clearly beautiful and cost friendly, but also great for replacing plastic bags while shopping, and it's the perfect bag for carrying around your reusables and to-go essentials while out and about.
Size: 19"W x 15.5"H x 5"G (Bottom).
Handle Size: 1"W x 9.5" Drop Length.
Capacity: Can hold more than a full grocery bag.
Care: Machine wash cold, hang dry.
Packaging: Package free.
End of Life: Recyclable as a textile.
Materials: Recycled cotton. Eco Bags's organic goods are certified through GOTS and are produced in the same location with the same workers as their natural and recycled fiber goods, so the certification for social responsibility is applicable to all work completed. Their factory is also certified with SA-8000, an internationally recognized certification. Eco Bags is also a certified B Corp.