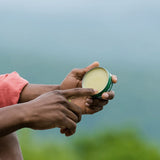 2 oz Mosquito Repellent Balm
Why We Love It: Plant-based, seriously effective, and in a recyclable tin, this balm repels mosquitos and other insects. Plus, the 2oz tin easily fits in your travel bag to accompany you on all your outdoor adventures.
Use: Rub directly on skin to keep mosquitos and other insects away. Reapply as needed.
Ingredients:
Castor oil (10.5%)
Lemongrass Oil (3.25%)
Rosemary Oil (3.25%)
Cedarwood Oil (2.0%)
Peppermint Oil (2.0%)
Inert Ingredients (79%): Olive Oil, Beeswax
Packaging: Package free. 
End of Life: Recycle empty tin with aluminum recycling.