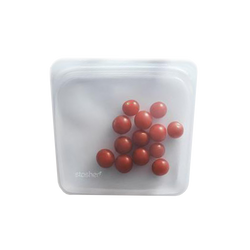 Reusable Sandwich Size Bag
Why We Love It: A total crowd pleaser, some say the Stasher fam starts with this essential — whether you're meal prepping and packing your lunch, or just trying to keep your tinted moisturizer from exploding into your gym bag. Fun fact: The Sandwich can also hold 10 energy bars or a laptop charger. 
Endlessly useful, reusable, and non-toxic — Stasher bags end the tyranny of lids with their patented Pinch-loc™ seal and compact design. 
Dimensions: 7.5 x 7 x 1 in / 19.1 x 17.8 x 2.5 cm
Volume: 28 fl oz. / 828 mL
Tare weight: 2.7 oz. / 77 gm
Care: Dishwasher and microwave safe.
Packaging: Recyclable box made from 70% post consumer waste.
HAVE A DAMAGED STASHER? Send to:
Stasher
ATTN: Repurpose Program
1310 63rd Street
Emeryville, CA 94608
Materials: Stasher products are made of 100% pure platinum grade silicone. Silicone is made from sand (silica) and carbon, natural resources that give Stasher bags the purity of glass and functionality of plastic.