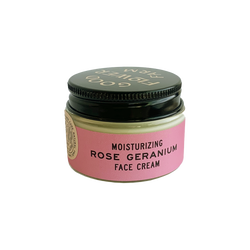 Why We Love It:  Moisturize your face using powerful plant-based ingredients that provide non-greasy hydration and nutrients to your skin. Best for combination skin. Press the reset button. This rose geranium rich formula is made to rebalance, repair, and restore troubled skin. A well-loved botanical for its ability to calm the spirit and skin, especially in times of distress and dysregulation. Use daily to stay radiant & hydrated and soothe irritated skin.
Use: Scoop pea-sized amount with clean finger and gently work into skin, applying to face, forehead, neck, etc. May use morning or evening, whichever is your preference. Store for up to 6 months after opening in a cool, dry space with cap firmly on. Because of the natural nature of this product, exposure to air or any foreign elements from unclean hands can reduce shelf life.
Packaging: Comes in a 1 oz glass jar with black metal lid.
End of Life: Recycle, reuse, or return bottle in-store for us to sanitize and refill. 
Ingredients: *Rose geranium hydrosol, aloe vera gel, *jojoba oil, distilled water, *vegetable glycerine, *hemp seed oil, ECOMulse® (glyceryl stearate, cetearyl alcohol, sodium stearoyl lactylate), *evening primrose oil, Geogard® ECT (benzyl alcohol, salicylic acid, glycerin, sorbic acid), vitamin E oil
*organic ingredient