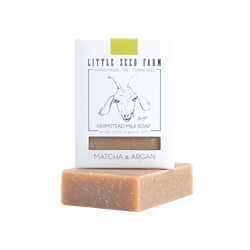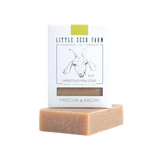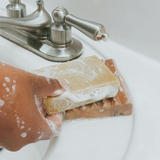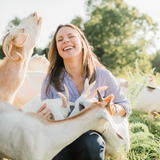 Matcha & Argan Oil Face & Body Bar
Why We Love It: Enriched with the skin superfood combo of organic matcha green tea and organic cold pressed argan oil, this is our most powerfully transformative soap yet.
Matcha's abundant antioxidants calm skin, reducing inflammation and redness, and protect from free radical damage while argan oil, replenishes and smoothes skin with vitamins A & E.
Use: Use as a facial cleanser or body wash. To reap the maximum moisturizing benefits from your soap, after lathering only rinse until the suds have disappeared. This leaves a silky layer of milky goodness to protect and heal your skin. Recommended for combination, mature, and/or acne prone skin.
Little Seed doesn't use palm oil (a hardening oil) in their soap for ethical and environmental reasons. As a result, the bars will soften if left in a pool of water. To help keep your bar at it's best, please keep it in a draining soap dish away from direct streams of water.
Packaging: Package free.
End of Life: Why we love bars so much, no need to do anything! These will eventually just dissolve.
Ingredients: Saponified Virgin Organic Olive Oil* and Organic Coconut Oil*, Grassfed Goat's Milk**, Organic Matcha Powder*, Organic Geranium Essential Oil*, Organic Lavender Essential Oil*, Organic Peppermint Essential Oil*, Organic Rosemary Essential Oil*.

* CERTIFIED ORGANIC INGREDIENT
** FROM OUR HUMANELY & SUSTAINABLY MANAGED HERD OF GRASSFED GOATS
 Made Locally in Lebanon, TN