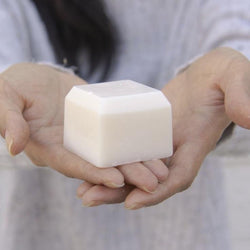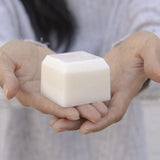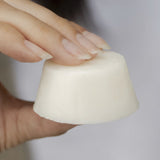 Extra Strength Deodorant - 2 Scents
Why We Love It: These deodorant cubes offer odor protection while being completely package free. The natural enzymes help deodorize and the bamboo extract helps absorb moisture making it an incredible, effective natural deodorant. 
aluminum-free | paraben-free | vegan
Use: 1-2 swipes under each arm, reapply if needed. As with any deodorant, we do not recommend applying directly after shaving or hair removal, and we recommend using an extra layer of cream or moisturizer (a small bit of shea butter works great) first if the skin is particularly sensitive and prone to rashes or irritation.

Care: Store in airtight container: For the unpackaged deodorants, keep it in an airtight container to prevent the aloe vera juice from evaporating. This is especially a factor in dry climates.
Keep your deodorant out of direct heat or sun (for example your car in the summer) because your deodorant could melt at very high temperatures.
Packaging: Package free.
Ingredients: bamboo extract powder, aloe vera juice, tapioca starch, natural enzymes, dipropylene glycol, golden jojoba wax, silica microspheres, sodium stearate, allantoin, phenoxyethanol, caprylyl glycol, sorbic acid, cyclomethicone, fragrance.