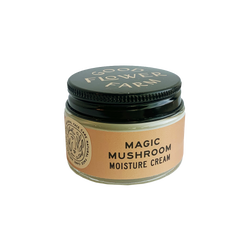 Magic Mushroom Moisture Cream
Why We Love It: Feel the benefits of magical mushrooms in your daily moisturizing ritual. This nourishing cream delivers the highest quality oils and butters - jojoba oil, Shea butter, and evening primrose oil, filled with the plant properties of maitake and cordyceps mushrooms provide anti-aging benefits. Chamomile hydrosol and aloe vera soothe and soften, beneficial for the most sensitive of skin. Has a fruity chamomile scent offered by chamomile hydrosol & essential oil.
Use: Scoop pea-sized amount with clean finger and gently work into skin, applying to face, forehead, neck, etc. May use morning or evening, whichever is your preference. Store for up to 6 months after opening in a cool, dry space with cap firmly on. Because of the natural nature of this product, exposure to air or any foreign elements from unclean hands can reduce shelf life.
Packaging: Comes in 1 oz glass jar with black metal lid.
End of Life: Recycle, reuse or return jar in-store for us to sanitize and refill.
Ingredients: *Chamomile hydrosol, aloe vera gel, *jojoba oil infused with *cordyceps & *maitake mushrooms, *evening primrose oil, ECOMulse® (glyceryl stearate, cetearyl alcohol, sodium stearoyl lactylate), *Shea butter, *vegetable glycerine, blue chamomile essential oil, Geogard® ECT (benzyl alcohol, salicylic acid, glycerin, sorbic acid), vitamin E oil
Cordyceps has anti-inflammatory properties and provides rich moisture to the skin. It also possesses antioxidants, which can help fight free radicals - known for their role in contributing to signs of aging. Research has even shown that when human cells are exposed to cordyceps, proteins that increase inflammation in the body are suppressed. 
Maitake can improve skin elasticity and stimulate collagen. It contains anti-inflammatory and antioxidant properties and hydrates & brightens skin. Can help with atopic dermatitis.
*organic ingredient