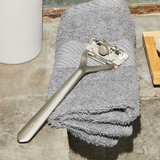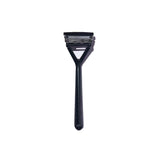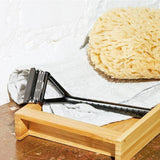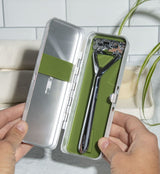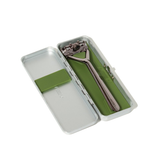 Pivoting Head Triple Blade Razor
Why We Love It: We are absolutely blown away by this razor. It's not only beautiful but does an incredible job at keeping a close knick-free shave, while cutting out plastic in the process. The pivoting head allows you to use 1, 2, or 3 blades. Comes with 10 blades. Try it with this all natural shave bar.
Use/Care: 
Grab one or two double edge blades (depending on if using 1, 2, or 3).
Snap double edge blades in half while keeping paper on blades.
Place the first blade down - The grooves and magnet of the razor should hold the blade in place.
Once you've loaded the desired amount of blades, turn the dial on the top of the razor to secure.
Do not let sit in water - hang or set to dry after use. 
Packaging: Recyclable box.
End of Life: Life time warranty through Leaf Razor or recycle blades with us.
Send your blades back to us in an envelope *inside* another padded envelope (please write "blade recycling program" on your envelope). This is a great way to reuse a plastic bubble envelope you may have regrettably acquired ;)
Send Blades To:
The Good Fill
1106 Woodland St, Suite 2
Nashville, TN 37206
Materials: Stainless steel and zinc.