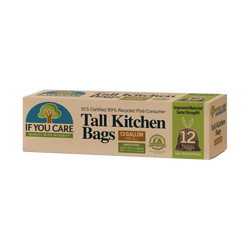 Trash Bags - 89% Recycled Plastic
We prefer to compost and repurpose as much as possible but we also know that trash happens and these bags are for those materials that cannot be composted, recycled or repurposed. 
Why We Love It: Made from a minimum of 89% recycled post consumer materials, if You Care Recycled Trash Bags have the highest amount of post consumer recycled material available on the market. Their bags help reduce CO2 emissions, petroleum consumption and landfill waste. Using 1 Kg (2.2 lbs) of recycled polyethylene plastic instead of producing new polyethylene plastic reduces carbon dioxide emissions by at least 1.5 Kg and crude oil consumption by 2 Liters.
12 count per box
Tall: 13 Gallons.
Material: Recycled Plastic.
Packaging: Comes in a recycled paper Kraft box, which is 100% recyclable.