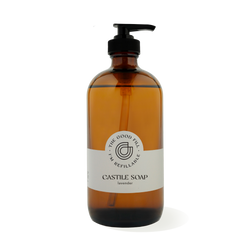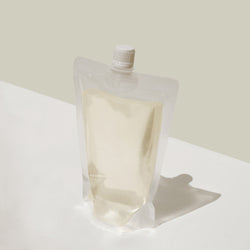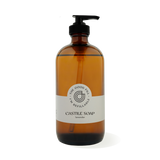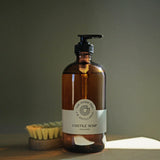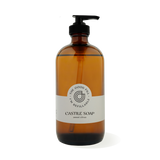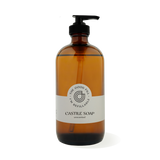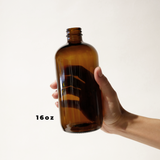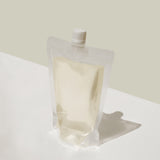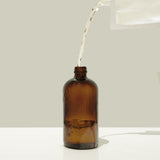 In Store Price: 64¢ Per Oz
Why We Love It: This castile soap is formulated with natural and organic ingredients. Use it at full strength or dilute using our recommended dilution ratios below. 
Cruelty free.
Vegan.
Palm oil free.
100% biodegradable.
Certified organic ingredients.


Packaging: BPA-free, returnable refill pouch or Glass bottle.
End of Life: Send pouch back in the mail for us to clean and refill for the next customer. Please rinse pouches out with water before sending back.
Ingredients: Organic Saponified Oils (Coconut, Olive and Jojoba), Rosemary Extract, Organic Aloe Vera, Scented with Essential Oils.
HOW TO USE/DILUTION:
Castile Dish Soap: Use it in it's concentrated form for scrubbing pots and pans in your sink. Get rid of those un-naturally colored green and blue liquid soaps and go all natural. We recommend keeping castile soap in a foam soap dispenser near your sink when used for cleaning up. 
Castile House Cleaner: Use diluted in a spray bottle 1 part castile soap to 4 parts water to clean counters, sinks, toilets, bathtubs and even stainless steel! Some green house cleaning companies use it as a dusting spray. For a castile soap dusting spray, use your spray bottle to dampen a hand towel, then simply wipe down surfaces that need dusting, such as baseboards, ceiling fans, and blinds. For lighter jobs, try using less soap and more water in the bottle. For really tough jobs, add more soap and less water. 
Shampoo and Body Wash: We recommend only using castile soap for shampoo or body wash when you want a deep and clarifying cleanse. Castile soap is not PH balanced and can occasionally upset the oil production on your skin and scalp. For this reason, unless clarifying, we love our other shampoo and conditioner and body products.
Hand Soap: Put your favorite castile soap in a foaming soap dispenser and dilute half water and half castile soap. 
Glass Cleaner: Add 1/2 teaspoon of castile soap to 16 ounces of water and vinegar to create a streak-free glass cleaner. We use this in the shop on our own windows!
Floor Cleaner: Add 1-2 tablespoons per gallon of water.
Foot Soak: Add 1 1/2 teaspoons in a small tub of hot water.
Fruit and Veggie Wash: To wash fruits and veggies, place about 1/4 teaspoon in a bowl of water and let your food soak for a few moments. Drain the soapy water and rise with clean water.
Plant Spray for Bugs: To keep bugs away from plants or get rid of current bugs, add 1 tablespoon to a quart of water and spray.
Toilet Cleaner: Dilute with 1 part soap to 4 parts water ratio. Coat the toilet bowl with mixture, add baking soda to brush, and scrub. Let cleaners sit in toilet for approximately 10 minutes then flush.
Zero Waste Online Refill and Return: Select your castile soap in either a pre-filled container or a returnable refill pouch. Refills come in a BPA-free pouch made with 93% less plastic than a plastic bottle. All refill pouches should be returned to us in the envelope you receive with your order that includes pre-paid postage. Simply empty the pouch contents into your own container, briefly rinse with water and then place the empty pouch back in the mail for us to clean and refill for the next customer.