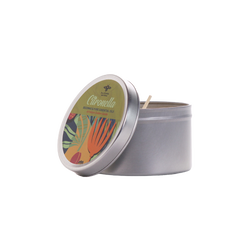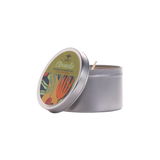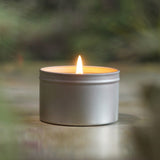 6oz Beeswax Citronella Candle in Recycled Tin
Why We Love It: All-natural, and free of paraffin and other toxins, these candles burn clean and soot free, with a steady flame. Burns for 20 hours! 
Handcrafted with an exclusive blend of beeswax, soy wax, and pure essential oils of lavender, citronella and cedarwood, this candle will burn for 20 hours! The properties found in citronella oil make the perfect natural barrier to keep pesky bugs away so you can fully enjoy the outdoors.
Use: For best results burn for at least 2 hours per lighting and keep on a heat resistant surface. Keep wick trimmed to 1/4 inches.
Ingredients: Naturally filtered beeswax, soy wax, and lavender, citronella, and cedarwood essential oils. The wicks are made from 100% cotton and contain no lead or metal. 
Packaging: Package free. 
End of Life: Recycle empty tin with aluminum recycling.