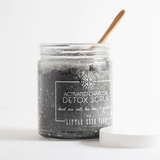 Activated Charcoal Detox Scrub
Why We Love It: Activated charcoal safely draws out skin impurities, helps heal troubled skin, and reduces inflammation. Coconut oil and a blend of essential oils heal and moisturize your skin. Dead sea salt delivers essential minerals to your body, gently sloughing away dead skin cells.
Use: After cleansing, massage a handful of detox scrub into skin working from your feet up. Let the treatment sit for a few minutes before rinsing for maximum effect.
Please take care when rinsing as the scrub may make your shower floor more slippery than usual.
Tips from us: Don't use on freshly shaved skin ;D
Packaging: Sold in a glass jar. 
End of Life: Infinitely recyclable.
Ingredients: Dead sea salt, virgin coconut oil*, sweet almond oil*, pumice, activated charcoal, tea tree oil*, geranium essential oil*, lemongrass essential oil*. 
* CERTIFIED ORGANIC
Made Locally in Lebanon, TN