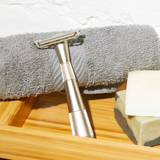 Single Blade Safety Razor
Why We Love It: Meet Leaf's version of a classic safety razor! With a single blade and fixed-head design, the Twig is specifically designed to be easy to use and gentle on your skin. Delivering a smooth shave that's better for the environment, unlike traditional double-edge safety razors, The Twig is tuned to be forgiving for a quicker, more manageable learning curve.
Care/Use: Open the blade holder by twisting the bottom of the handle clockwise. Load a single-edge blade into your Twig. Then, secure the blade by twisting the bottom of the handle counterclockwise until finger-tight. Designed with the smallest safety razor head available. This makes it the most agile and accessible shave, tight spots and crisp edges are a breeze. Try it with this all-natural shave bar.
Materials: Zinc and Stainless Steel.
Packaging: Packaged in a recyclable box. Each box comes with five blades.
End of Life: Life-time warranty through Leaf Razor or recycle blades with us.
Send your blades back to us in an envelope *inside* another padded envelope (please write "blade recycling program" on your envelope). This is a great way to reuse a plastic bubble envelope you may have regrettably acquired ;)
Send Blades To:
The Good Fill
1106 Woodland St, Suite 2
Nashville, TN 37206