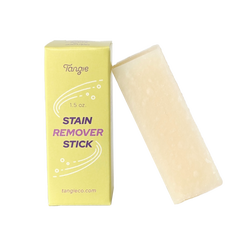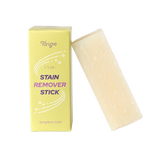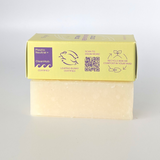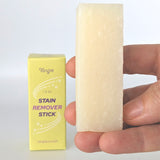 Why We Love It: This solid stain remover can be used to pre-treat stains on the go or in the home. It is effective of stains of grease, blood, grass, make-up, coffee, food and more. The stick is 1.5 oz and replaces 1-3 bottles of traditional stain remover spray. 
Use: Wet the stained area with water. Hold the bar between your fingers and rub the stick directly onto the stain. Launder as tag instructs.
For non-machinable items (pillows, drapes, rugs, pet beds, etc), use a bucket of water and a rag/sponge to remove the applied bar by dabbing the area with water and using a towel to soak up the excess moisture. Let air dry before covering. 
Keep dry between uses.
Packaging: Compostable and recyclable paperboard box.
Ingredients: Coconut Oil, Water, Saponified Sodium Hydroxide, Lemon Juice, Borax
End of Life: Recycle or compost paperboard box. Use stick to completion.