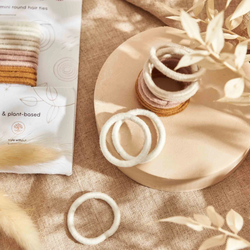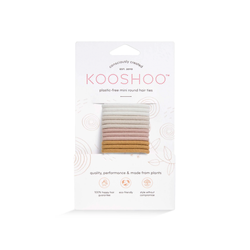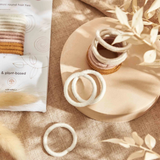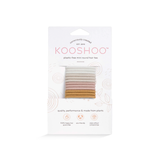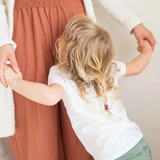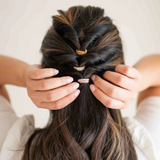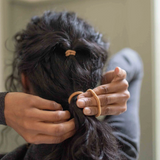 Plastic-free Mini Round Hair Ties
Why We Love It:
Hundreds of millions of people worldwide use hair ties, and almost all of them are made out of materials that do not biodegrade and are harmful to our environment.
Think about how many hair ties you've lost, or have thrown out after they break. Where do they all go? Usually, they're left on the ground outside somewhere, or they end up in landfills. Most hair ties are made of synthetic rubber and polyester, which either don't decompose at all or take thousands of years to do so.

KOOSHOO hair ties are produced from a GOTS & Fairtrade certified production facility that is a social-good business dedicating profits to local charities! They are strong enough to hold a bun, top-knot or ponytail all day long, yet soft enough to cause no creasing or hair tie headaches. Still soft, still high performance, still gentle on the hair, the planet and its people, still KOOSHOO.
Care: Keep dry and close by! But if you lose these, don't worry, they won't harm the environment like synthetic hair ties.  Biodegradable materials are, by nature, capable of being broken down and returned to the soil - eventually. KOOSHOO products are created in a way that makes them durable, strong, and high-performance, but they're still plant-based materials, which means they will wear down (just as intended) - but proper care can extend their life. To maximize longevity, avoid storing them in direct sunlight, stretching them while wet, or letting oils and hair products linger on them.

Wash your KOOSHOO Hair Ties with like colors in cold water and lay flat to dry. Good as new.
Packaging: FSC-certified recycled paper packaging.
End of Life: Compostable in industrial compost and biodegradable.
Materials: 70% organic cotton (GOTS, Fairtrade certified), 30% natural rubber (Fair Rubber Association)