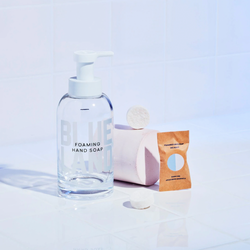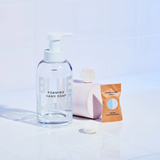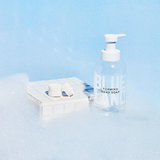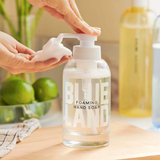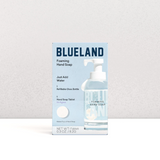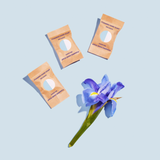 Blueland Foaming Hand Soap Set and Refill Tablets
Why we love it: Cut out single-use containers and excess packaging with Blueland's eco-friendly Foaming Hand Soap tablets!
Made without parabens, phosphates, ammonia, VOCs, chlorine bleach, or phthalates.
Vegan, gluten-free, soy, and nut-free.
EPA Safer Choice, Cradle to Cradle Certified™, Leaping Bunny (cruelty-free).
Use: Fill your Blueland forever bottle with water, drop a tablet in, and voila! Hydrating, foamy goodness at your fingertips.

Ingredients/Materials: 
citric acid, sodium coco-sulfate, sodium carbonate, sodium benzoate, algin, polyethylene glycol, sorbitol, potassium sorbate, fragrance, caprylic/capric triglyceride
Starter Set comes with:
1 reusable 9oz Forever Glass Bottle
1 Iris agave scented hand soap tablet,

packaged in compostable paper

.
Refills:
Iris agave scented tablet, 

packaged in compostable paper.

1 tablet = 1, 9oz refill.
End of Life:  Reuse your bottle into infinity! When you are ready to part with your bottle, the pump tops can be recycled with us through TerraCycle. So feel free to bring those pump tops back in for us to properly recycle. The bottle themselves are accepted in Nashville at glass recycling drop-off sites.  
The tablet packaging is EN 13432 Compostable Certified. This is the European Standard of compostability ensuring the item will degrade in facility composting. These tablet packets can be dropped off with an industrial composting facility to guarantee proper degradation.