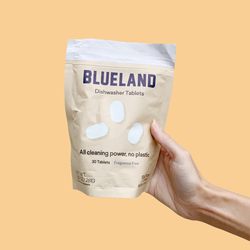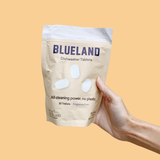 Blueland Dishwasher Tablets
Why we love it: These naked tablets come plastic-free— drop one in your dishwasher for a powerful, conscious clean.
Packaged in compostable paper pouches

Each pouch comes with 30 Fragrance-Free Dishwasher Tablets
Use: 1 tablet per load
Ingredients: sodium carbonate, sodium citrate, citric acid, sodium silicate, microcrystalline cellulose, sorbitan caprylate, sodium carboxymethyl inulin, subtilisin, lauryl glucoside, amylase, hydrated silica
Packaging/End of Life: The tablet packaging is EN 13432 Compostable Certified. This is the European Standard of compostability ensuring the item will degrade in facility composting. These tablet packets can be dropped off with an industrial composting facility to guarantee proper degradation.