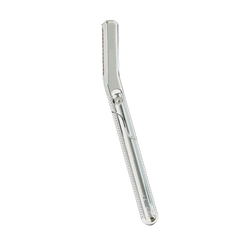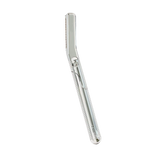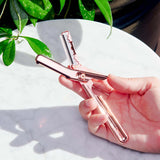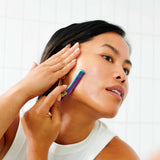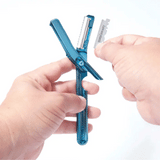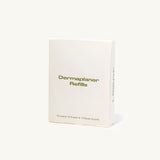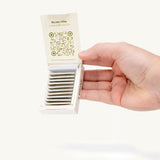 Why We Love It: Leaf's new Dermaplaner is an all-metal, zero-waste system for removing peach fuzz, maintaining brows, and exfoliating skin with an Earth-friendly footprint. Dermaplaner Refills contain 10 single-edge steel blades and 10 steel blade-guards, both of which are infinitely recyclable.
Use/Care: 
Cleanse your face.
Use on either dry skin, or apply a small amount of oil, like our Face, Hair & Body Oil. If you're unsure about which method works best for your skin, ask your dermatologist.
Hold your skin taut. Place the blade at a 45-degree angle against your skin.
Use light pressure, and move in short downward strokes towards the center of your face. As needed, rinse or wipe the blade. Take your time, and get comfortable with the technique.
Rinse your skin and finish with your favorite moisturizer.
Thoroughly rinse your tool and blade after use. Replace the blade and blade-guard once a month, or after every 3 uses. Between uses, you may wipe the blade and blade guard with alcohol to disinfect. Never use the Dermaplaner without the blade-guard.
Packaging: Recyclable box.
End of Life: Lifetime warranty through Leaf Razor. Recycle blades with us.
Send your blades back to us in an envelope *inside* another padded envelope (please write "blade recycling program" on your envelope). This is a great way to reuse a plastic bubble envelope you may have regrettably acquired.
Send Blades To:
The Good Fill
4840 Centennial Blvd., Suite 103
Nashville TN, 37209

Materials: Stainless steel and zinc.