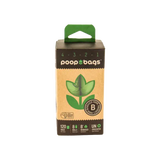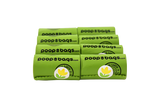 Leakproof Biobased Doggie Bags - Pk of 120
Why We Love It: Be a courteous neighbor while picking up after your pet with these bio-based poo bags. Most pet waste cannot be composted, so these are a great alternative to 100% virgin, petroleum-based plastic and are much stronger than compostable bags. This pack contains 120 bags (8 rolls - 15 bags per roll). These are completely leakproof and measure 13"x9". We love that these bags reduce the demand for virgin plastic.

Material: These bags are made from a minimum of 38% bio-based materials and are USDA certified bio-based.
Packaging: Comes in a 100% recycled Kraft box, which is 100% recyclable.
End of Life: These bags and the waste inside should be sent to the landfill.