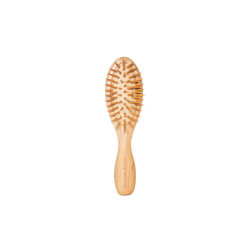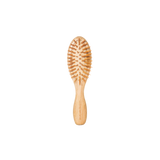 Why We Love It: This mini bamboo hair brush is a zero-waste alternative to hair brushes made with synthetic materials. It has a natural and luxurious feel and functions exactly like conventional hair brushes, but is perfect for travel.
This hair brush is 9.75 in/25 cm tall and 3.25 in/8.5 cm wide.
Use: Brush as normal! This brush is resistant to water damage. However, excessive water exposure should be avoided. If the brush becomes wet, we recommend using a towel to wipe it dry. When properly cared for, this hair brush can last for decades.
Packaging: Compostable or recyclable cardboard box
End of Life: All parts are compostable. 100% backyard compostable or compost in a facility. 
Materials: Bees-wax sealed bamboo handle, natural rubber cushion, and bamboo pins.