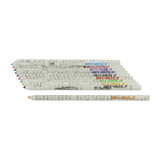 12-Pack Recycled Newsprint Colored Pencils
Why We Love It: These colored pencils feature a body made from recycled newspaper rather than wood. Each pencil comes pre-sharpened and ready-to-use.
Materials: The colored core of each pencil is surrounded by a recycled-newsprint body.

Packaging: Recyclable cardboard box.
End of Life: We do not recommend composting the nubs of colored pencils due to the lack of information available about the safety of introducing materials from the colored cores into soil. The best practice would be to use as much of the pencil as possible and then discard the remaining nub.