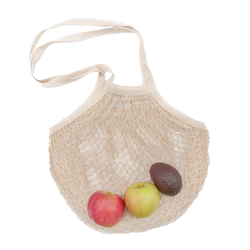 Natural Cotton String Bag (Long Handle)
Why We Love It: This seemingly small bag, stretches and expands to accommodate almost anything you put in it, from fruits and veggies, to breads, flowers, and wine. Perfect for going to your grocer, farmer's market, or simply having it on hand as a just-in-case bag or "Avoska", as they say in Russian.
Beyond local shopping, this bah is perfectly suited for the beach and travel so that no matter where you are in the world, you have your handy reusable tote.
Handle Size: 0.75"W x 13" Drop Length.
Capacity: 40 lbs.
Great for shopping or the beach.
Easy to compact and carry, fits in a pocket.
Handy for organizing.
Lightweight and expandable.
Care: Machine wash cold, hang dry.
Packaging: Package free.
End of Life: Recyclable as a textile.
Materials: Natural cotton. Fair Wage, Fair Labor.