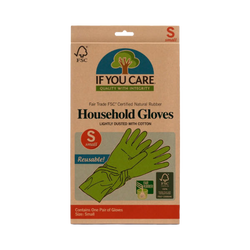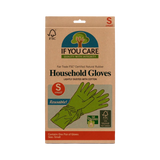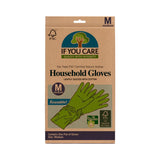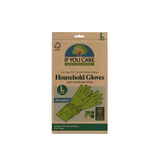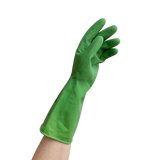 Fair Trade Latex Household Cleaning Gloves | 3 sizes
Why We Love It: If You Care Household Gloves are made from FSC Certified latex, i.e. the natural rubber is sourced from a responsibly managed plantation. Furthermore, the rubber tappers, who cut the bark to get the raw material flowing, have received a fair trade premium, and it is their decision how to spend their extra income.
Unlike other brands, If You Care Household Gloves are reusable, made from 100% latex and contain no fillers so they are super strong and perfect for a variety of uses like dishwashing, house and bathroom cleaning, and gardening.
Use & Care: After each use, rinse outside of gloves in soap and water. Let air dry. Do not put in dishwasher. Avoid contact with fuel or corrosive chemicals. Use one pair of gloves for dishwashing and a second pair for all other cleaning.

Storage: Do not store in direct sunlight. 
Materials: 100% Latex Gloves and recyclable box. 
 End of Life: Cut gloves into small pieces and compost. Recycle box.