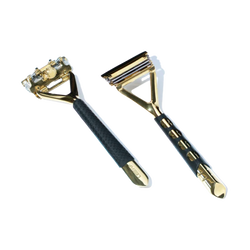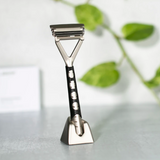 Why We Love It: This silicone sleeve fits The Leaf Razor with a pivoting head, providing additional grip. It is custom molded out of silicone to fit the handle perfectly and give you added control. It slides easily on, and stays put when in use. Remove whenever you'd like. 
Use: Wet your razor handle and apply a small amount of soap to the handle to get it slick. Wet the inside of the grip sleeve. Wrap a towel around the sleeve so that you can get a good grip on it. Position the small end of the grip at the bottom of the razor handle and push it on. Wrap a cloth around the wet grip to make pulling it up easier. Bring it to the bottom of the "Y" at the peak of the handle. Once positioned, rinse the soap-assist clean. Run water through the grip sleeve on the handle, inside the top, through the bottom, and through the sides. Keep rinsing until you feel the grip holding the handle instead of sliding around. Let it dry a bit, the sleeve should be firmly grabbing the handle now. 
Material: Custom molded silicone.
Packaging: Packaged in a small recyclable kraft box.
End of Life: Recycle or compost packaging. Leaf Razor products have a lifetime warranty, if the grip ever breaks. If you simply want to dispose of it, send back to us to recycle with Terra Cycle.
The Good Fill
1106 Woodland St, Suite 2
Nashville, TN 37206