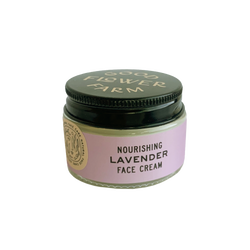 Why We Love It: This deeply nourishing face cream does not disappoint. One of Good Flower Farm's most beloved, acclaimed creations, the lavender face cream provides balancing moisture to feed your skin all day while evening skin tone and assisting with other skin imperfections.
Use: Scoop pea-sized amount with clean finger and gently work into skin, applying to face, forehead, neck, etc. May use morning or evening, whichever is your preference. 
Store for up to 6 months after opening in a cool, dry space with cap firmly on. Because of the natural nature of this product, exposure to air or any foreign elements from unclean hands can reduce shelf life.
Ingredients: *Lavender hydrosol, aloe vera gel, *extra virgin olive oil infused with **calendula, **comfrey, & **plantain, *apricot kernel oil, *Shea butter, ECOMulse® (glyceryl stearate, cetearyl alcohol, sodium stearoyl lactylate), *vegetable glycerine, *lavender essential oil, Geogard® ECT (benzyl alcohol, salicylic acid, glycerin, sorbic acid), vitamin E oil
*organic ingredient // **grown on our farm using organic practices
Packaging: Comes in a 1 oz glass jar w/ black metal lid.
End of Life: Recycle, reuse or return jar in-store for us to sanitize and refill.