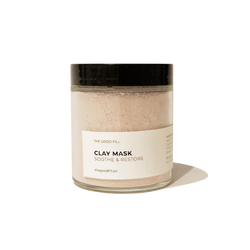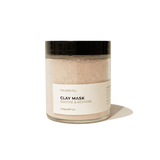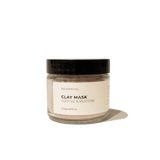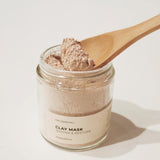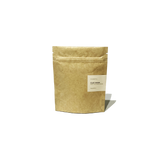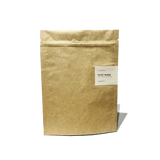 Soothe & Restore Clay Mask
In Store Price: $4.90 per volume ounce.
Why We Love It: Ideal for dry, sensitive skin and/or mature skin. Kaolin and Bentonite Clays gently improve circulation, purify and clarify pores. Turmeric and Beetroot Powder soothe sensitive or troubled skin. Antioxidant rich Vitamin C & B5 help skin quench and promote healing. Vegan and Palm free. 
Use: Mix 2 parts powder to 1 part any liquid suitable for hydrating the mask. We recommend water, milk, or witch hazel. Allow to dry up to 20 minutes then wipe with warm water and a soft towel. 
Ingredients: Kaolin Clay, Bentonite Clay, Rose Kaolin Clay, Organic Turmeric Root, Beet Powder, Provitamin B5, Vitamin C, Sweet Pea Extract, Lavender E.O., Litsea Cubeba E.O.
Packaging: Packaged in either a 2 or 4 ounce reusable jar. Refills are packaged in a compostable packet. 
End of Life: Use powder until gone. Reuse or recycle the jar. Refill bags are 100% home compostable and completely break down within 90-180 days. Bags will break down quicker when industrially composted. 
If unsure how to dispose of a container please give us a call or bring it to one of our shops in Nashville! We accept all packaging and containers back at either of our stores for proper disposal/reuse.