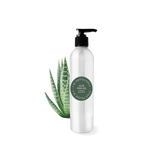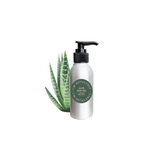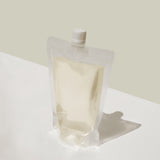 In-Store Refill Price: 90¢ Per Oz
Why We Love It: Hydrate skin and hair, relieve sun-damaged or burned skin, and use under makeup as a primer or as an under-eye gel. Vegan and Gluten-Free.
Uses: Apply and spread evenly over face and body without pulling down on the skin; allow to soak in. Apply on hair and leave in as a curl cream or as a hair mask. Use to soothe minor burns, psoriasis, and even acne.
Ingredients: Organic Aloe Leaf Juice (Over 91%), Hydroxyethyl Cellulose, Phenoxyethanol, Tetrasodium Glutamate Diacetate, Green Tea Extract.
Packaging: Glass bottle or BPA-free, returnable refill pouch.
Zero Waste Online Refill and Return: Choose either a pre-filled container or a returnable refill pouch. Refills come in a BPA-free pouch made with 93% less plastic than a plastic bottle. All refill pouches should be returned to us in the envelope you receive with your order which includes pre-paid postage. Simply empty the pouch contents into your own container, quick rinse to remove excess product, then place the empty pouch back in the mail for us to reuse or recycle through TerraCycle.