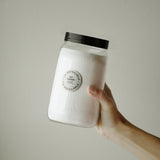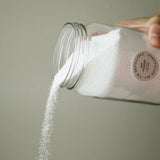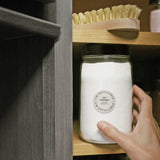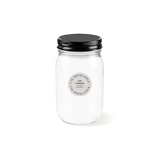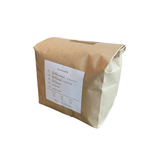 In Store Price: 44¢ Per Oz
Why We Love It: Liquid detergents are made up of at least 50 percent water. Nellie's does not think selling you water and moving water around the planet is a very good idea. The fact is, that more cleaning power can be packed into a smaller space using powder. You only need 1 tbsp per load of this oxygen booster to strengthen the cleaning power of your laundry detergent.
Vegan.
Cruelty-free.
Non-toxic.

Safe from: SLS, SLES, gluten, phosphates, fragrance, and chlorine.

Color-safe, septic-safe, hypoallergenic, environmentally-friendly and biodegradable.
Use: 
Machine wash: 
Small load – 1 tablespoon.
Regular load – 2 tablespoons.
Large load – 3 tablespoons.
(Use 3 tablespoons for very dirty or stained clothing.)
Pre-soak or hand wash: separate whites from colors. Use only one tablespoon along with Nellie's Laundry Detergent Powder in 10 L (2.6 gallons) of WARM or HOT water. Soak for 1/2 hour then rinse thoroughly.

General stain removal: create a solution using 1 tablespoon per 16 oz (500 ml) of water for upholstery, fabric, kitchen floors, counters, trash cans, and all other water washable surfaces. Apply the solution to stain, wait 1-5 minutes, scrub with a sponge, or blot with a towel. Rinse thoroughly and allow to dry.

Carpet spot remover: create a solution using 1 tablespoon per 16 oz (500 ml) of water. Soak up excess liquid before applying the solution to the stain. Use only enough to cover the stained area, wait 1-5 minutes, and soak up with a white towel. Repeat if necessary. Rinse thoroughly with water and blot dry. Vacuum once dry.
Do Not Use: on wool, silk, or leather. Not for use on jewelry, latex, paints, or wood.
Packaging: Refills come in a compostable/recyclable paper bag. *Please note that this bag is meant solely for transport purposes and is not meant to hold the product for an extended period of time. 
Pre-filled jar is glass with a metal top.
Ingredients: sodium carbonate, sodium percarbonate, sodium sulfate, primary linear alcohol ethoxylate.