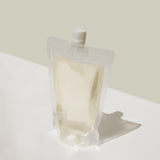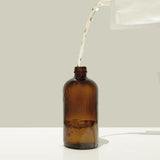 Face, Hair & Body Oil & Refills
In Store Price: $3.50 Per Oz
Zero Waste Online Refill and Return: Select your Face and Body Oil in either a pre-filled container or a returnable refill pouch. Refills come in a BPA-free pouch made with 93% less plastic than a plastic bottle. All refill pouches should be returned to us in the envelope you receive with your order that includes pre-paid postage. Simply empty the pouch contents into your own container, then place the empty pouch back in the mail for us to clean, and refill for the next customer.
Why We Love It: A fatty-acid rich moisturizer for both skin and hair. Organic oils of Apricot, and Jojoba mimic the skin and hairs natural oils while Meadowfoam Seed Oil helps maintain a youthful glow across the whole body.
This oil can be used on the face, body, and hair and is also suitable for an oil cleanser or hand and cuticle rub.
Use: Perfect for layering on top of our Good Fill lotion to seal in moisture. Light enough for facial and hair use and absorbs into the skin and hair without leaving a heavy oil residue behind. 
Packaging: BPA-free refill pouch.
End of Life: Send pouch back in the mail for us to clean and refill for the next customer. Please rinse pouches out with water before sending back!
Ingredients: Grapeseed Oil*, Apricot Oil*, Meadowfoam Seed Oil**, Jojoba Oil***, Vitamin E, Rosemary Extract***, Organic Spearmint E.O, Rosemary E.O.***, Lavender E.O.***, Litsea Cubeba E.O.***
*Upcycled, **USA Grown, ***Organic